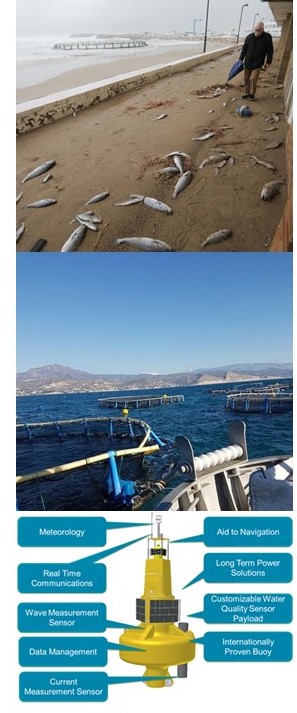 Timely forecasts of extreme marine events are important – if unavailable this can have enormous economic consequences for ocean-related businesses. Estimate of the probability of marine heat waves, deoxygenation events, or extreme wave events helps industries make sound management decisions.
The protection of juvenile fish, early harvest of adult fish, and the timely protection or removal of equipment and installations – are all supported by forecasts of the ocean temperature, pH, turbidity, and water current speed and direction. Such forecasts can help saving thousands of euros.
The key to accurate predictions is the generation, processing and interpretation of ocean observing data. The EuroSea partners involved in the Ocean Health Demonstrator are engaging with the users of these predictions to specify their requirements. A series of in-person and virtual meetings with stakeholders in Ireland and a dedicated online survey with Spanish aquaculture companies were conducted to define new EuroSea forecasting products for aquaculture and fisheries.
Through this work, new high value datasets have been identified. The EuroSea team will gain access to recent and historical chemical, physical, and biological ocean data and use it to enhance and develop local predictions. The team will also help to include these data into the European data repositories. This will improve availability of both historical and recent data on variables such as temperature, pH, turbidity, and water currents, improving the modelling products. A regular assessment of the eutrophication status for various marine regions will be possible. Detailed regular reports on abnormal or extreme events (such as strong saltwater inflows from the North Sea into the Baltic Sea basins or dramatic decrease of oxygen concentrations) will also be possible.
Our Ocean Health Demonstrator team also helps generate new data: a data buoy system tailored to the monitoring needs of the aquaculture industry is being designed, with the aim of improving the data provision for sites in the North-East Atlantic and Mediterranean. Such systems will provide aquaculture facility operators with individual data about their region and will enable more accurate predictions using adapted regional models.
This fruitful co-design work includes scientists from EuroSea, maritime industry (CTAQUA, MOWI), technical developers (XYLEM), the Irish Department of Housing, Local Government and Heritage through the National Parks and Wildlife Service (NPWS), government agencies (Ireland's Seafood Development Agency BIM, Environmental Protection Agency, Division of Modelling and Management of Fisheries Resources at IPMA, Portugal), as well as ICES working group WG HANSA. The new co-developed products and services will support the sustainable and responsible use of our marine resources now and in the future.
Find out more about the EuroSea ocean health service requirements in a table summarizing the needs of the service co-developers to support their environmental assessments. The table also provides an overview of data the co-developers will share with the EuroSea consortium.
Image captions: top – aquaculture damages after Gloria storm on the Spanish Mediterranean coast; middle – aquaculture installations; bottom – Xylem Environmental buoy for real-time current, wave, and water quality measurements.