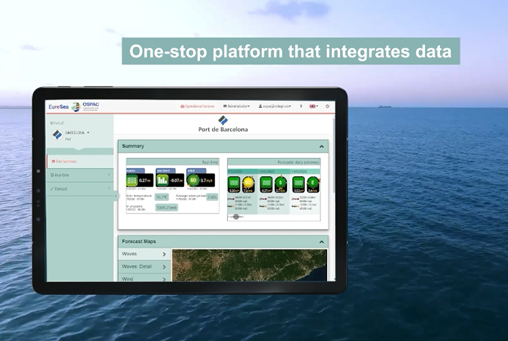 Description
Maritime activities in harbours and cities require quick decision making and projections hours and days ahead. Uncertainty in daily planning and execution in harbours may lead to bottlenecks in the logistic chains. Wave storms, storm surges, and coastal pollution events require timely planning to reduce casualties and economic losses at the coastal fringe. The EuroSea OSPAC tool, Oceanographic Services for Ports and Cities, aims to support such short-term actions by providing the following services:
Real-time monitoring of oceanographic conditions; 

Short-term range forecasts (e.g. 72 hours ahead); 

Real time and forecast alerts; and 

On-demand services for oil-spill, floating debris or other events.
OSPAC will reach TRL7 by the end of EuroSea having been tested operationally in Barcelona, Spain. At the end of the project, it is planned to implement OSPAC in harbours of Taranto, Italy, and Buenaventura, Colombia. Beyond EuroSea, the tool will need to reach TRL9 and be maintained.
User Quote
" Lorem ipsum dolor sit amet, consectetur adipiscing elit, sed do eiusmod tempor incididunt ut labore et dolore magna aliqua. Ut enim ad minim veniam, quis nostrud exercitation ullamco laboris nisi ut aliquip ex ea commodo consequat. "
Tracking Information
TODO
References & Contact
TODO